Professional Auto Detailing Services
At our auto detailing center, we offer comprehensive services to keep your vehicle looking its best. Our team of skilled technicians are dedicated to providing the highest quality care for your car, truck, or SUV.
With our state-of-the-art facilities and top-of-the-line products, we are able to deliver exceptional results that will exceed your expectations. Whether you need a thorough interior cleaning, exterior polishing, or paint restoration, we have the expertise and resources to get the job done right.
We understand that your vehicle is an investment, and we take pride in helping you maintain its value and appearance. Our attention to detail and commitment to customer satisfaction sets us apart from the competition.
Bring Back The Beauty Of Your Vehicle with Auto Detailing at Washmaster
Bring back the beauty of your vehicle with exceptional auto detailing services at Washmaster. Our team of skilled professionals is dedicated to rejuvenating your car, both inside and out. We go above and beyond to restore your vehicle's showroom shine through meticulous detailing techniques and the use of premium products.
Starting from a thorough hand car wash and detailing of the exterior, followed by detailing the interior of your vehicle, we understand the importance of attention to details. Trust Washmaster to bring out the best in your vehicle, ensuring it looks its absolute best and you can love your ride all over again.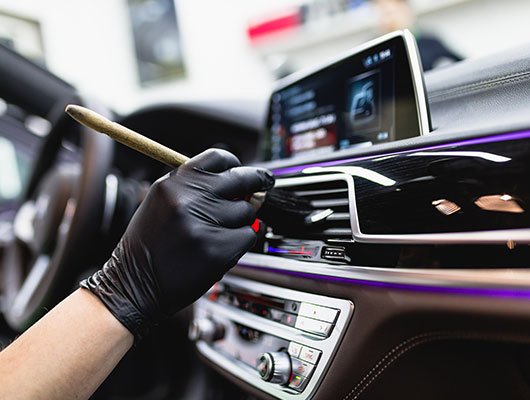 Retaining Your Vehicle's Value With Auto Detailing
One of the best ways to retain the maximum value of your vehicle is by regularly detailing it. The exterior of your vehicle is constantly affected by the elements and things such as; brake dust, bird droppings, and tree sap that should not be left on the body for an extended period of time as that may cause permanent etching.
Spills also happen inside the car along with accumulation of salt, dust, dirt, sand and mud. Detailing the interior will allow you to breathe fresh air inside the cabin as well as avoid the discomfort of driving in an untidy vehicle.
Furthermore, keeping the interior of your vehicle clean will allow your vehicle to stay looking like new and show your pride of ownership. Washmaster is your best resource for all of your auto detailing needs and we look forward to helping you love your ride!
New clients get
10% discount on selected detailing services
Looking For A Different Service?
Washmaster Auto Spa is your exclusive IGL Ceramic Coating facility in Barrie and surrounding areas. We also offer a full range of services to rejuvenate, protect and enhance your ride making us your one stop shop for all your car care needs!
Exterior Car Detailing
Interior Car Detailing
Paint Correction
Waxes & Sealants
Paint Protection Film