Driven By Passion & Fueled by Inspiration
We are a team of avid car enthusiasts with the knowledge and experience to keep your ride protected and looking brand new all year round. We believe in building lifelong relationships as we are car lovers who aim to meet your needs and exceed your expectations. Our philosophy and business model is based on providing you and your ride with an exceptional experience, where quality is not compromised. While offering competitive pricing our certified detailers and authorized installers are dedicated to achieving exceptional results.
Car detailing is the first step followed by many other products and services that we offer to protect and enhance your ride! We treat your ride to a spa experience like no other with fresh warm water, ph. balanced foams, clean wash mitts and plush towels. Enjoy your stay in the comfortable customer lounge with complimentary refreshments, TV and Wi-Fi while watching us pamper your vehicle in our transparent facility. Our technicians are backed by the best tools and products in the industry that are proven to work and not damage your car!
While serving our amazing customers we are also proud partners of dealerships including Acura, BMW, Lexus, Mazda and Mercedes-Benz.
Located on the south end of Mapleview in Barrie Ontario In-between Midas And Midas.
Love Your Ride? Welcome to Washmaster Auto Spa!
Our Mission
At WashMaster Auto Spa, our mission is to exceed customer expectations by delivering top-quality car care services in a timely and efficient manner. We strive to provide a superior level of cleanliness and attention to detail, ensuring that every customer leaves our facility with a vehicle that looks and feels brand new.
At WashMaster Auto Spa, we offer a wide range of services to meet all of your car care needs. Whether you're looking for a quick exterior wash or a comprehensive interior detailing, our team has the expertise and resources to get the job done right. Our services include:
Exterior Detailing
Our exterior detailing services are designed to restore the shine and luster of your vehicle's paintwork. From hand washing and waxing to paint correction and ceramic coating, we use only the highest quality products and techniques to ensure a flawless finish. Whether you have a daily driver or a luxury sports car, our team will treat your vehicle with the utmost care and attention to detail.
Interior Detailing
Our interior detailing services are focused on rejuvenating the interior of your vehicle. We offer thorough vacuuming, steam cleaning, stain removal, and leather conditioning to ensure that your car's interior is fresh, clean, and comfortable. Our team pays attention to every nook and cranny, leaving no surface untouched.
Additional Services
In addition to our detailing services, we also offer a range of additional services to enhance your car care experience. These include headlight restoration, engine bay cleaning, odor removal, and more. Whatever your car care needs may be, we have the expertise and resources to exceed your expectations.
Why Choose WashMaster Auto Spa?
When it comes to car detailing and cleaning services, we understand that you have many options. Here are a few reasons why WashMaster Auto Spa stands out from the competition:
Experienced Technicians: Our team of technicians has years of experience in the industry and undergoes regular training to stay up-to-date with the latest techniques and technologies.
State-of-the-Art Equipment: We invest in the best equipment available to ensure that we can deliver superior results.
Attention to Detail: We take pride in our meticulous approach to car care, paying attention to every detail to ensure a flawless finish.
Customer Satisfaction: We strive to provide exceptional customer service and guarantee your satisfaction with our services.
Convenience: With flexible scheduling options and a convenient location, we make it easy for you to give your vehicle the care it deserves.
At WashMaster Auto Spa, we are passionate about cars and committed to providing the highest level of service to our customers. Contact us today to experience the WashMaster difference.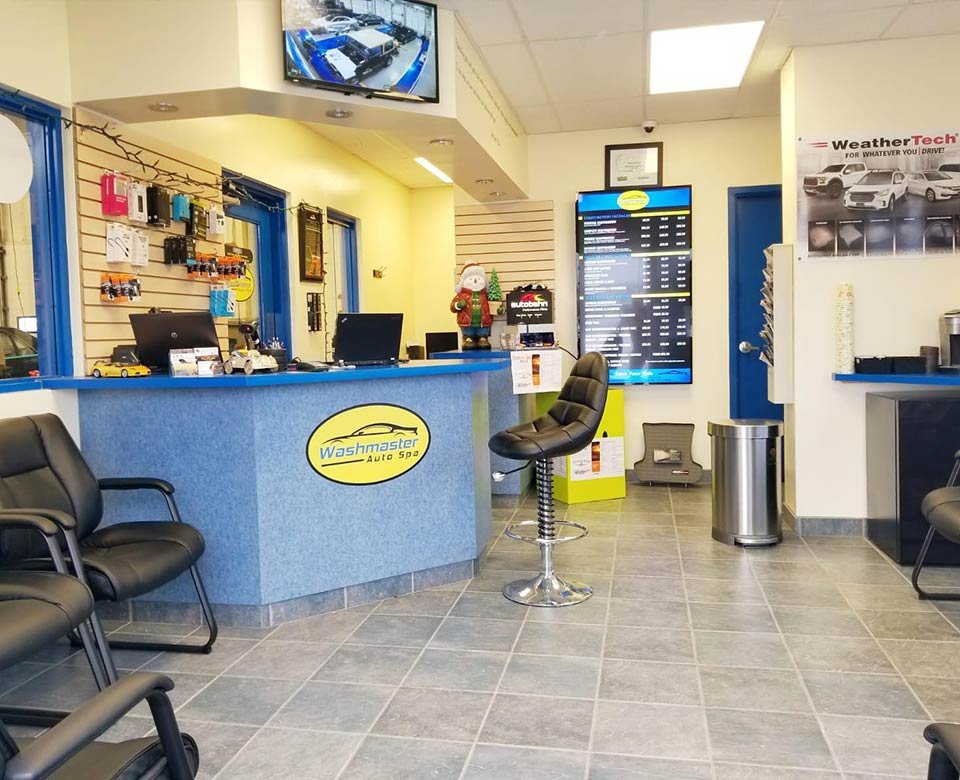 Why Choose Us
Your satisfaction is our reputation and we take pride in our work.
5 Star Reviews
We achieve 5 star reviews by meeting your needs and exceeding your expectations. Hundreds of customers have taken their time to vouch for us by sharing their positive experiences.

Certified Detailers
Our Certified Detailers are professionally trained in handling your ride with care and caution. Every vehicle is treated with attention and respect.
Authorized Installers
Our Installers of ceramic coating, window tint, paint protection film and vinyl stickers are Authorized by 3M, Autobahn, Avery, IGL Coatings and other industry leading companies.
Transparent Facility
Our services are performed in front of your eyes and not behind closed doors. We believe that total transparency is key to showcasing our work and earning your trust!
Industry Leading Products
From top of the line cleaning products to ceramic coatings and paint protection films, we offer world leading solutions for your ride. Research and experience allows us to provide you with products that have stood the test of time.
Open 5 Days A Week
We understand your busy schedule and we are here to serve you and rejuvenate your ride 5 days per week. Sundays and Mondays are by appointment only. We always aim to accommodate your lifestyle and schedule.
New clients get
10% discount on selected detailing services